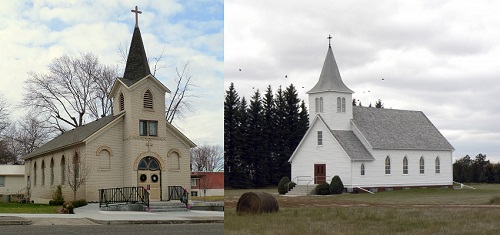 Just like all other followers of Jesus Christ, Catholics and Baptists are also Christians. This is simply because the word Christian, literally means follower of Jesus Christ. It is this faith in Jesus that defines Christianity, separating it from all the other Abrahamic Religions. This doesn't mean that all Christians are the same, or that they all share the same beliefs and practices.
In this article, we will be covering the fundamental differences between the Catholic faiths and the Baptist faiths. As there are many Baptist denominations, we will be comparing the primary Baptist principles against the beliefs of the Roman Catholic Church.
The Difference Between Catholics and Other Christian Faiths
We have covered the core differences between Catholics and the other Christian faiths in another article. If you would like some additional information on the what defines a Catholic from other Christians please read our article: The Differences Between Catholic and Christian.
The Similarities Between Catholics and Baptists
While both the Catholic and Baptist faiths worship the same God, have faith in Jesus Christ, and the bible. Their similarities remain rather limited when compared to other Christian faiths.
The Bible
Both Catholics and Baptist follow and believe in their Bible. Their bibles consist of the Old and New Testaments, but that is as far as the similarities go.
Like many other Christians. The Baptists do not acknowledge the 7 Deuterocanonical books that are found in the Catholic Bible.
Baptism
Members of both Churches are baptized prior to joining their community. The Baptism is performed differently from one another's however.
Catholics will baptize infants, who are then raised in the light of the lord. With their Godparents and family, guiding them on the teachings of God and the Church.

Catholics perform their Baptisms by pouring water over the heads of those being Baptized.
Even though they are Baptized, they are not treated as full members of the church until they take their Sacrament of Confirmation.

Baptist will only Baptize "adults" – meaning only those who are of the age of reason, which is around the age of 12 years old. This is a similar age to Catholics, who are taking their Sacrament of Confirmation.

Baptist perform their Baptisms by fully submerging the person being Baptized under a body of water.
This can be done using a still pool of water, or a nature body of water, still or flowing.
Some denominations may say their prayers prior to submerging the person. Others may say their prayers while the person is fully submerged.
Life After Death and Salvation
For both churches, the existence of Heaven and Hell is very real. How one can make their way into heaven or windup in hell is where they differ.
Catholics believe that in order to gain salvation not only do you need to have faith in God and Jesus, you also need to have belief in the Church, and the holy sacraments.

They also believe that the works you perform in life (how you live your life) also has an impact on what awaits your when you die.
They believe that those who die without being absolved of their sins, will either go straight to hell (for mortal sins) or end up in purgatory (for venial sins).
They believe that those who are trapped in purgatory can be helped free, through the use of prayers like the Prayer of St. Gertrude the Great.
They believe that only perfect things are meant for Heaven, and only outright evil people are meant for Hell.
For everyone else, purgatory is our second chance at redemption.

Baptist believe that a strong and devout belief in Jesus is our only salvation, in avoiding an eternity in hell.

They do not believe in purgatory, and that only Heaven or Hell awaits us.
They also believe that which ever fate awaits us is for all eternity and that there are no second chances.
More Differences Between The Faiths
Aside from the differing views about life, death and the Good Book. There are many other minor differences that are more easily explained in a side by side comparison. For your convenience, we have provided a quick and easy reference guide.
Catholic Beliefs

Baptist Beliefs

How the Church Was Established

Established in 33 A.D by St. Peter Following the death of Christ
Jesus appointed St. Peter as the first Pope himself (Matthew 16:17-19)

Earliest recorded history of the church, dates its foundation in 1609 A.D, in Amsterdam
Established by a priest by the name of John Smyth, who was an English Separatist
First congregation was established in North America

Religious Leaders

There is a hierarchy structure for all of the religious leaders within the Catholic Church
Their positions brings them closer to God then the rest of us
The Pope is the highest position that can be held by anyone on earth

Priests are representatives of the community
They are not stationed about anyone else, and are as equal in stature as every other member of the church
The Baptist Church has no formal structure

Cross/Crucifix

The Catholic cross has left Jesus on it
This represents his sacrifice for us

The Baptist cross has taken Jesus off the cross
This represents his resurrection

Confession

Catholics confess their sins to their priest, who instructs them on how to repent before absolving them of their sins
For more information of Catholic confession, please read our article here

Baptist believe that their sins are private and only between them and God
They pray directly to God in order to confess their sins and to seek forgiveness

Saints

While Catholics don't worship the Saints themselves. They do pray to them to seek their aid
It is believed that saints have the ear of God and can work miracles on his behalf

Baptist do not pray to the saints
Only God and Jesus are prayed to
As per scripture, they believe that a saint is anyone who is born again

Mass

Catholics burn incense in a thurible that swings from a chain

Baptist hold service and not mass
Nor do they burn incense during service

The Churches Authority

The Catholic Church views itself to be the one true church of Jesus

The Baptist Church acknowledges that they are merely a congregation of Christians

Lent

Catholics practice the tradition of Lent in the weeks leading up to Easter

Most Baptist do not practice mainstream Christian traditions including Lent

Lifestyles

Catholics strive to live a life of respect and moderation
Drinking and smoking is permissible
Having parties and singing and dancing are acceptable behavior
Over indulgence is not permissible or is giving into the temptations of the flesh

Baptist live a very strict lifestyle
There's no drinking, smoking, dancing or gambling.
Even the act of chewing without the intention of consuming is not allowed
Anything that could be viewed as indulgence is shunned upon