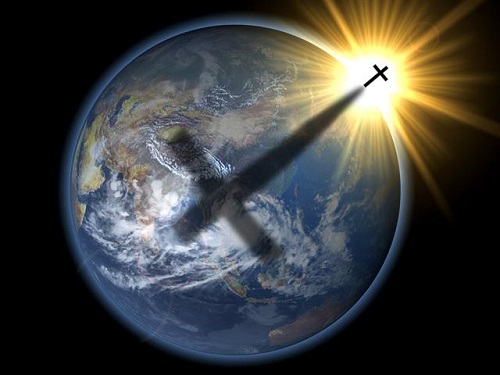 Whether looking at Roman Catholics in particular, or the Catholic faith as a whole, Catholicism still remains part of Christianity. As such we will be aiming to provide you with a helpful and in-depth analysis of the global population of Christians, and Catholics, compared to other faiths and denominations.
Total Number of Catholics
There are an estimated 1.2 billion Catholics in the world, according to Vatican figures.
What Percentage of the World are Catholics and Christians?
The world's current population is 7.5 billion plus. So roughly 16% of the World's population is Catholic.
100% of all Catholics are Christian, but not all Christians are Catholic. For the purposes of global comparison, we will be answering this question by breaking it down into multiple sections.
What are the Global Percentages for each Religion?
In the past, one's own race and culture would be the determining factor for one's religious faith. This no longer applies to today's society, as more and more countries become multicultural. Religious beliefs are no longer region locked, with many countries sustaining multiple religious beliefs.
The global percentages of all religions can be seen below: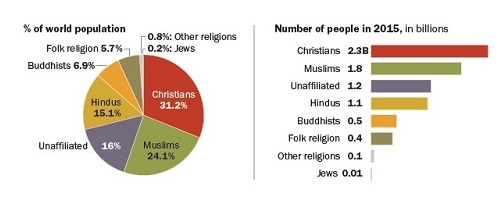 Christianity 31.2%
Islam 24.1%
Irreligion/Atheism 16%
Hinduism 15.1%
Buddhism 6.9%
Folk Religion 5.7%
Other 0.8%
Judaism 0.2%
In Which Region of the World do Most Catholics Live in?
Looking at global regions instead of individual countries. The percentage of Catholic population breaks down as follows:

South America – 483 million, 41.3%
Europe – 277 million, 23.7%
Africa – 177 million, 15.2%
Asia – 137 million, 11.7%
North America – 85 million, 7.3%
Oceania – 9 million, 0.8%
What percentage of Christians are Catholic?
The Catholic Church is the largest of the Christian denominations, with just over half of the global Christian populous identifying as Catholic.
The following chart shows the percentages break down of the major christian denominations: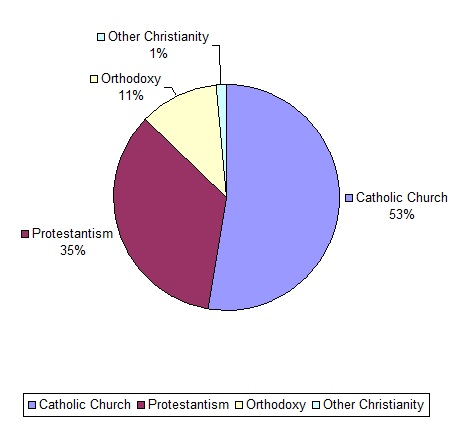 Catholic Church – 1,200,000,000, 52.4%
Protestantism – 800,640,000, 34.9%
Orthodoxy – 260,380,000, 11.4%
Other Christianity – 28,430,000, 1.3%
Christianity – 2,289,450,000, 100%
Which Country has the Highest Catholic Population?
Not meaning to sound like a smart aleck here. But there are three answers to this question, depending on how you are asking it:
If you are talking about percentages, then hands down that would be the Vatican City with 100% of their population, which is only around 840 people, being Catholic.
Based on population numbers and not the percentage of the countries population. Then the answer would be Brazil, with approximately 120,640,000 Catholics. That's around 58% of their total population, that identifies as being Catholic.
Or if you are asking about Christians as a whole, then that would be America with some 230,000,000 Americans identifying as Christian.
Which Regions are Gaining More Believers?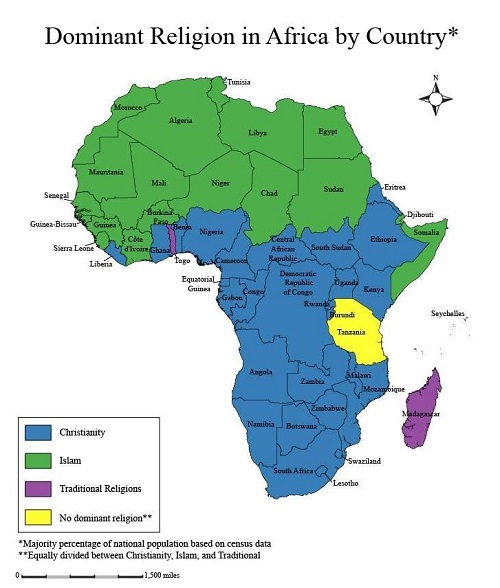 The continent of Africa is leading the charge with a growing Catholic population. Thanks to a mixture of conversions and birth rates, the United Nations Population Division, predicts that within the next 30 years, the Democratic Republic of Congo, Uganda, Kenya and Nigeria, will number among the world's top twenty countries with the highest Catholic population.
Through the church's focus on charitable works, and Catholic social service projects in African nations. The church is winning over both individual converts, and in some cases entire towns and villages are turning to Catholicism.
Where are Catholic and Christian Numbers Dropping?
Aside from the obvious regions of the middle east. Catholic numbers have also been on the decline in most secular western cultures all across the world. Some Catholics are now following other Christian denominations, while others are converting to different religions all together.
There is also a rising trend of people completely turning their backs on religion. As more and more people begin to identify as either non-religious, atheist, or even irreligious. There is some debate over the cause of this rise in trend. Some people point to the abuse scandals, as being a cause for people pulling away from the Church. Others to a perceived corruption or misguidance in the western educational system. What ever the cause may be, one thing is clear. More and more young people all over the world are moving away from all religions, and refusing to influence or educate their children on religious beliefs.
In Australia a census is taken every five years. The last census was taken in 2016, and as you can see in the graph provided below, there has been a steady decline in the total population of Christians in the country. At the same time, the percentage of those that identify as "No Religion", has been steadily increasing. While Christians as a whole still make up more then 50% of the over all population in Australia. The various Christian denominations such as Catholics, are no longer ranked as the top identifier.
The total population that identifies as Catholic dropped a 2.7%, while the non religious population grew by 7.8%. As Australia has an average population growth rate of about 8.8%, along with the steady decline in religious beliefs as shown in the graph. This indicates that western countries like Australia are moving further and further away from the Church.
| | |
| --- | --- |
| 2016 – Top 20 Identifications | 2011 – Top 20 Identifications |
| No religion – 30.1% | Catholic – 25.3% |
| Catholic – 22.6% | No religion – 22.3% |
| Anglican – 13.3% | Anglican – 17.1% |
| Uniting Church – 3.7% | Uniting Church 5.0% |
| Christian, (Not further defined)– 2.6% | Presbyterian and Reformed – 2.8% |
| Islam – 2.6% | Eastern Orthodox – 2.6% |
| Buddhism – 2.4% | Buddhism – 2.5% |
| Presbyterian and Reformed – 2.3% | Islam 2.2% |
| Eastern Orthodox – 2.1% | Christian (Not further defined) 2.2% |
| Hinduism – 1.9% | Baptist – 1.6% |
| Baptist – 1.5% | Hinduism 1.3% |
| Pentecostal – 1.1% | Lutheran – 1.2% |
| Lutheran – 0.7% | Pentecostal 1.1% |
| Sikhism – 0.5% | Judaism – 0.5% |
| Other Protestant – 0.5% | Jehovah's Witnesses – 0.4% |
| Judaism – 0.4% | Sikhism – 0.3% |
| Jehovah's Witnesses – 0.4% | Seventh–day Adventist – 0.3% |
| Seventh-day Adventist – 0.3% | Other Protestant – 0.3% |
| Latter-day Saints – 0.3% | Salvation Army – 0.3% |
| Oriental Orthodox – 0.2% | Latter-day Saints – 0.3% |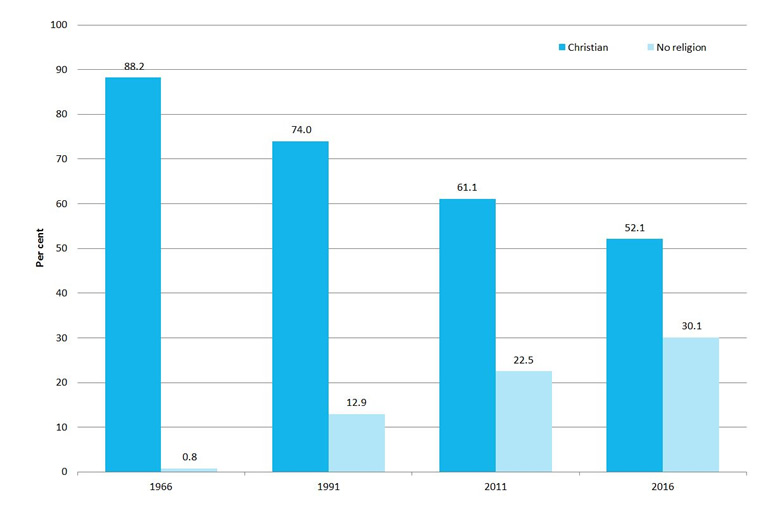 Christianity in Europe
European countries such as Ireland, England and Italy, have been moving more towards secular ideals, with less people attending church, an increase in self-reported affiliations and other indicators such as new laws, politics, and legislation.
In the chart below, you can see the difference between practicing and non-practicing Christians, in most European countries: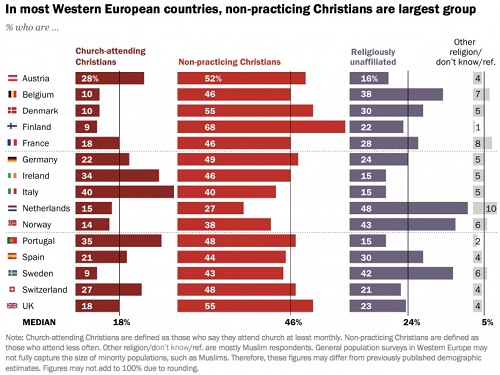 Catholic Faith in America
Just as with many European Christians, there are many American Catholics that have moved away from the Church. Also known as "Cultural Catholics" or non-practicing Catholics, these members of the Catholic faith were born and raised Catholic, but rarely if ever, attend church.
According to a General Social Survey, there are more Americans that have left the church, then there are practicing Catholics that attend weekly mass.
During the 1970's, 85% of Americans that were raised as Catholic identified as Catholic as adults, and still attended regular mass. Since then, more and more Catholics are attending mass less often. Sometimes only attending mass once a year, or in many cases, not at all.
Today, the number of American adults that were raised as Catholics and identify as Catholic, has dropped to 65%, with less then half of them attending mass more then once a year. Those that no longer identify as being Catholic, have either accepted other belief systems as their own, or have fallen into the "Non-religious" identification. Meaning that they either no longer have any faith, or religious beliefs.
The reason for why many of the non-practicing Catholics are referred to as Cultural Catholics. Is simply due to them partaking in seasonal events and traditions, such as Easter and Christmas, and Baptism. Yet they do not live life according to the teachings of the Church, or never make prayers, confessions or attend mass. They are Catholic in name only. While they may still identify as being Catholic, but they don't live the life as a Catholic.
The graph below is indicative of how many Americans identify as being Catholic, compared to how many Americans are actually practicing Catholics by attending regular mass, and adhering to the teachings of the Church: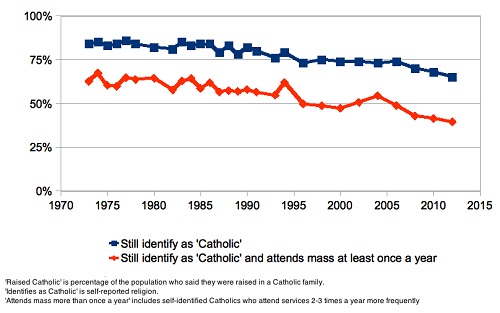 Conclusion
We are proud to say, that Christianity and Catholicism remains the most followed religion in the world. Through the guidance of God and the Church, we are able to better our lives and that of those around us. Should you see a friend or family member that may be struggling with their faith, don't be shy. Talk with them and see where you can help provide them the guidance, that they may need to get back on track.