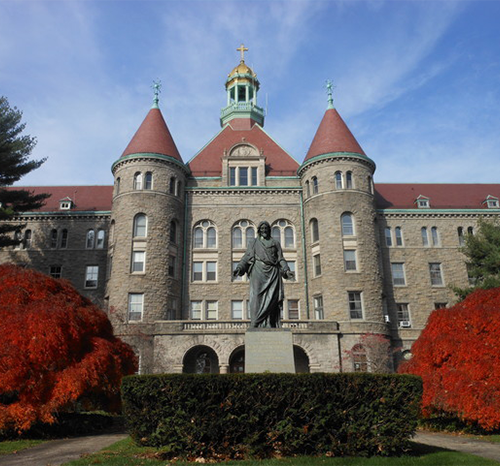 Hearing the call and dedicating oneself to a life in the service of the Lord and Church is an immensely honorable choice that someone could make for themselves. Yet it remains a choice that no one should make lightly.
The path to priesthood has been walked by many great men throughout history. Even the Pope himself starting out as a humble seminarian. Where priesthood was once a birthright, now men from all walks of life can undertake the journey, becoming a beacon of hope, guidance, and inspiration for us all.
---
Who Can Become a Priest?
Catholic men who have been baptized, have undertaken their confirmation, and are practicing members of their local Parish for at least 2 straight years, can be admitted to a seminary to study and become a priest.
After completing their studies at the seminary, and serving as a Deacon for a period of 6 months to a year, unmarried males between the ages of 25 and 63 can be ordained as a priest.
Married or divorced men can not become priests, but they can become Permanent Deacons. Divorced men will need to have their marriage annulled if they wish to become a priest.
Widowers, including Deacons, whose wife has been passed away for 1 or 2 years at least can be ordained a priest. The Church requires that these men be afforded an adequate amount of time to mourn for their spouse, before taking their vows or making their promises.
There are many roles to fulfill in the journey to become a Catholic Priest making it a lifelong commitment.
What Qualities Make a Person Suitable For Priesthood?
All priests, be they Diocesan priests, or Religious priests, are "Alter Christus", or another Christ. They are the witnesses of Christ who Shepard, guide and educate the masses on the word of the Lord, and the teachings of the Church. As a teacher of faith, and steward of the Church, they are in a position of great influence, trust, and respect.
For this reason, a priest needs to be someone who is of exemplary character. A priest needs to be empathetic (spiritually detached), honest and caring, and above all else, moral and highly reliable and dependable. They also need to be exceptional listeners to be able to advise their congregations on matters of faith, friends, and family, morals, and life.
Other beneficial traits of a good priest:
Integrity
Virtuous of character
Intelligent
Insightful
Approachable
Who Should I Reconsider Before Becoming a Priest?
Someone who tends to be forgetful, tardy, or generally unreliable, may not be suited for life in the priesthood. To become a priest takes drive and dedication. It is not something you can simply do when you feel like it. If the members of a Parish can not rely on their priest for advice, to deliver a meaningful and inspirational services, conduct Mass every Sunday, or even maintain the upkeep of the parish; how could they trust him with their most sacred of sacraments, and services, or take his advice seriously.
Men of questionable character, men who are not trustworthy or reliable, are not the sort of men that should be considering life as a priest.
This isn't to say that someone who has turned their life around should never become a priest. The Lord loves and forgives us all. So a man who has truly repented their sins and has heard the calling, and seek atonement in the service of the Lord and Church; can still follow the path of priesthood.
---
What is the Difference Between a Diocesan Priest and a Religious Priest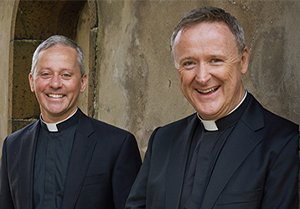 All priests have been ordained. They received their training according to Canon Law, and serve the larger Catholic community. Both Diocesan and Religious Priests provide guidance in the way of the Lord's teachings, through mass, preachings, and sacraments.
While there may be some differences in the overall training that they received during their time at seminary, the difference between the two comes down to the vows they've sworn, and the lives they live.
Diocesan Priests
Diocesan Priests serve the parishioners that live within a predefined geographic area or diocese. Even though they can live with other priests, they still live independently from one another and remain as part of the local community. Some diocesan priests are even allowed to earn a salary to cover the costs of living.
Diocesan priests make a promise to live a life of:
Obedience
Celibacy
Simplicity
Religious Priests
Religious Priests are members of a religious order such as the Dominicans, the Franciscans, and the Trappists. Religious priests live within their own religious communities, abide by the same schedules, and travel together, almost like an extended family. Their vow of poverty prevents them from owning property, indulging in luxuries, or taking private vacations.
Religious priests swear a vow to live a life of:
---
Studying To Become a Priest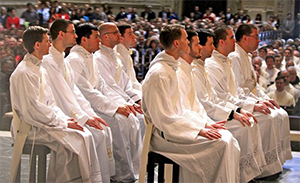 The process of becoming a priest requires that you complete your studies at a seminary. Seminaries are schools that educate and prepare prospective priests for a life devoted to something greater than themselves.
There are many different types of seminaries, some specialize in developing the skills of priests who want to focus more on religious teaching, and counseling, others may even offer different degrees alongside the core teachings.
Not all seminaries are equal however, look for one that offers a Master of Divinity or a similar degree. Within America and Canada, look for seminaries that have been accredited by the Association of Theological Studies. For our readers from other countries, we would advise that you seek guidance from your local parish priest, to see who is the accredited governing body in your home country.
How to Apply to a Seminary
Different seminaries have different criteria for enrolments. Some seminaries will only accept applicants that have been referred to them by a Priest, or Bishop. Other seminaries will only accept men between the age of 17-55 with little to no financial debt, or they may require a completed Bachelor's Degree with specific Majors.
The Application Process
Seminaries need to determine whether or not their students are truly willing to devote themselves to a life of the cloth. They also assess if these students are sound of mind and capable of maintaining their priestly duties. This is why you'll find medical questions, along with other questions relating to education, and religion.
The types of question they may ask can cover:
Your current medical condition

Physical Health
Mental State of Mind
Dietary Habits

Employment history
Marital Status
Education

GPA or GED
Bachelor Degree
Majors

Catholic Knowledge

Religious Doctrines
Traditions
Sacraments and Practices
What Paperwork Will be Required?
Each seminary may ask for different information from you. Some may request a police background check, others may ask for a financial report. This could be to assess the state of your character. Or it could be to determine in you are trying to hide from your problems by trying to become a priest, rather than resolving them.
You will need to contact the seminary prior to submitting your application. This will help you to ascertain which documents they may require to be included as part of your application.
An Auto-biography
Reference letter(s) from your priest or bishop.
The names of the church leaders who are sponsoring you.
Academic transcripts.
Certificate of Baptism and Confirmation.
Wedding, or Annulment Papers.
Immigration papers.
Employment references.
Is a College Degree Required?
Yes… and no. Getting into a seminary can be difficult without a Bachelor's Degree. A glowing referral from your priest, bishop, and other community leaders from the parish can help improve your ods. Generally speaking, however, most seminaries are looking for people with a proven track record of dedication and commitment.
If you are of the older persuasion, your relevant work experience can be taken into consideration. If you have worked as a team leader, guidance counselor, teacher, or therapist, then these professions can demonstrate a dedication towards others and a commitment and understanding that is required in a priest.
How Long Does it Take to Study to Be a Priest?
Being granted a position at a seminary with no bachelor's degree will take you approximately 8 years for you to complete your studies. Similarly, if you have been granted a position based on your relevant work history, 4-6 years, and as little as 4 years for someone who has completed a related bachelor's degree, or majors.
What Should You Study for Your Bachelor's Degree or Majors?
Most seminaries don't require prospective seminarians to study specific subjects or topics prior to gaining admission. Yet with that said, studying an appropriate course in college can help you to prepare yourself for a life as a priest.
Consider studying subjects pertaining to:
English
Philosophy
Religion
Communication
History
What Would You Study at a Seminary?
Seminaries are structured to help prepare prospective priest for their new life as a priest and spiritual advisor. The modules also to help determine if someone is suited for the responsibility that comes with the position, or not.
Seminarians (the students) are taught a range of subjects, all designed to help increase their knowledge and understanding of the Bible, the teachings of God and Church, and to help give them the tools and skills that will be required to deliver this message and carry out their mission in life.
This means that seminaries help to broaden and develop a seminarian's general knowledge and thinking, through:
Languages
Philosophy
Ethics
Canon Law
Church History
They also work at strengthing a seminarian's knowledge and understanding of Catholicism and the teachings of God through:
Moral Theology
Theology
Sacred Scripture
Catholic Doctrine
Sacraments
Pastoral Studies
It's not all about just giving their students knowledge though. Seminaries also work to develop the skill sets of their prospective priests. This is done through workshops, or by attending conferences and retreats, all of which help to improve interpersonal skills.
The skills that they fouse on improving here are:
Public Speaking
Self-reflection and Examination
Public Relations
Guidance and Counseling
Meditation and Focus
Graduation
Those who have successfully graduated, are ordained into the Catholic ministry as Deacons. For the next 6 -12 months these deacons will be carrying out their job placement training. They assist the priest of their local parish with their day to day duties, and they can help with the preparations for mass and other sacraments.
While the priest may be their supervisor, they are still required to report to the bishop and follow his orders over that of the priest. The priest provides on the job advice and additional training, before advising the bishop of the deacon's progress.
---
Becoming Ordained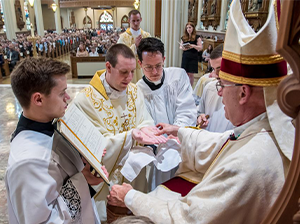 Deacons who performed well in their duties and studies, but are not ready to make the final commitment, are already married, recently widowed or divorced, can become a Permanent Deacon. Their responsibilities and duties will remain the same as before. They'll continue to serve their local parish and can now provide services outside of Holy Sacraments or the celebration of the Mass.
Deacons who are ready to swear their vows of Poverty, Chastity, and Obedience, can be ordained a Religious Priest. Bidding farewell to the life they have lived up until now, the newly ordained priest will the rest of their life in the service of God and the Church with their new community.
A deacon who makes a promise to live a life of Obedience, Celibacy, and Simplicity, can be ordained a Diocesan Priest. The Bishop will issue the diocesan priests with their Holy Orders, assigning them to a parish with their diocese. Some diocesan priests are allowed to continue serving their local parish.
---
Final Thoughts
As respectable a position as a Priest can be, it is one that you should take careful consideration with. If there is anything also that you find yourself considering, maybe have a look at that first. If it requires a bachelor's degree, use it as your entry-degree into a seminary.
Unlike other jobs or industries, if you're not as close to 100% as sure as possible, "trying it out" is not something that can be done with the priesthood.
Speak with your church leaders, ask them for their advice and be honest with yourself as to what you want. God will love you either way and will let you know what to do.