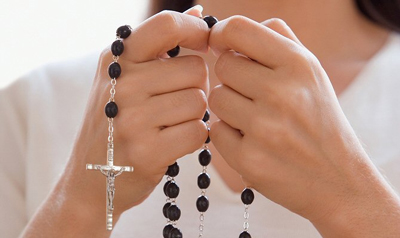 Here at Scripture Catholic, we have been asked by many of our readers what do the Rosary's beads mean. We have written several articles covering how to use Rosary beads, the different types of Rosaries, as well as the different Rosary prayers.
In this article we will be breaking down what purpose a Rosary serves, and why the beads are strung out the way they are.
What are Rosaries?
A Rosary is a religious focus, more or less speaking it is a trinket that one would use to help keep track of their prayers. Individually, some of us may find that merely holding the rosary brings them comfort, and helps them to further strengthen their connection with God, thus bringing them protection and luck.
To others, the Rosary is no different then the bible. They regard the rosary as being nothing more then a tool that is used in ones service to God, and serves as aid during their prayers.
I myself will not say which view is right or wrong here. As we all have our own way of thinking, and find our own connections with the Lord, there can be no right or wrong answer, only what is right for you.
What Makes a Rosary?
As Rosaries can come in various different forms, and can be made out of almost any material (metal, stone, fiber, glass or plastic) we will be talking about them in general terms.
In truth a Rosary does not even need to be a chain of beads, the link is more for practicality and convenience. If you wanted, you could create your own rosary using loose stones, coins, bobbles, or even a row of pegs or nails would suffice.
As long as there is a way for you to be able to count out your prayers and keep track of where you are up to, the Rosary could be a tradition beaded chain, or made of components that are more symbolic for yourself.
Why are Rosaries Laid Out the Way They are?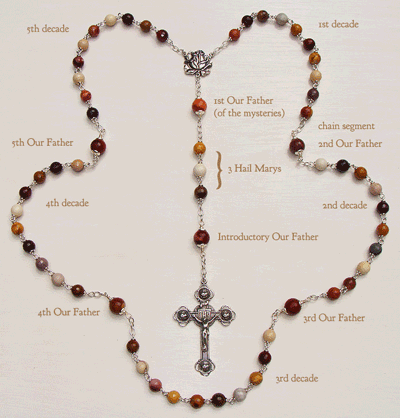 All Rosaries have a core design with their layouts. Their intended use, is what determines how many beads are present and how many are clustered together.
Crosses and Medallions
One core element that can be found on all Rosaries, be they 1 – 5 Century, Chaplets, or Rings, is that they all have either a Cross/Crucifix, or a Pendent/Medallion that represents Christ, the Virgin Mary, or a Saint, at its beginning.
Even Rosaries that form a solid loop, will either have a central medallion link with the cross trailing off, or in the case of Rosary rings, the cross itself can be found completing the loop.
We make the sign of the cross when we hold onto it, and an opening prayer such as the "Apostle's Creed" is recited.
What are the Clustered Beads For?
Rosaries are designed with their beads in clusters for a reason. Each of the smaller beads found on all Rosaries are called "Hail Mary" beads. In most prays, these beads would be used to recite Hail Mary once per bead, with the final bead in the link having a "Glory Be" recited immediately after the final Hail Mary.
These Haily Mary beads are used to keep count of how many times the prayer has been said, or in the case of some Chaplet prayers, they can let you know which prayer you need to be on. This makes Rosaries a simplistic, yet effective device for keeping track of where you are up to.
Why is There a Separating Bead?
These secondary beads, also called "Our Father" beads, are used to indicate the end of a century. Their primary purpose is to help indicate when and where to recite Our Father, or another specific prayer.
Their appearance/layout varies from Rosary to Rosary. Sometimes these Our Father beads are larger then the Hail Mary beads, of a different color or material, or spaced further apart from the rest of the beads. Other times the Our Fathers are medallions instead, or in the case of the Rosary Ring, absent all together, making the cross an Our Father bead the second time it is touched.
Why Does the Cross Trail Off on Looped Rosaries?
Most looped Rosary beads have a tail at the beginning. This is designed to allow the user to continue with their prayers without having to touch the cross again.
The tail also has its own set of prayers depending on which beads are present. In the case of the modern 5 Century Rosary beads, between the cross and the loop there is 1 x Our Father, 3 x Hail Marys, and another 1 x Our Father.
This means that as part of the prayer cycle, the following prayers are said before commencing with the prayers on the loop.
Start at the cross/crucifix, recite "Apostle's Creed"
For the first bead recite "Our Father"
On each of the next three beads recite "Hail Mary"
Before touching the fifth bead recite "Glory Be"

Some people will use the fifth bead for "Glory Be" and the central medallion link for the beginning of the next cycle

The fifth bead marks the commencement of the century of prayers
Most other looped Rosaries do not have the first four beads, instead having just the one Our Father bead.
Conclusion
We hope that this article was able to answer any questions that you may have had regarding why Rosaries are designed the way they are.