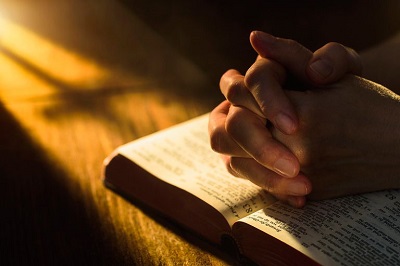 The humble nine beaded chaplet functions as an excellent devotional when praying to the Saints. Most Saint prayers are performed on either the straight nine bead chaplet, or the three sets of three chaplet. There are some prayers that do use a set rosary or chaplet that has a specific configuration.
In this article we will be offering some of the more common St. Prayers that can be performed on either of the standard nine bead chaplets.
The Difference Between the Two Chaplets
The only difference between the two chaplets is in the bead configuration. Both have a cross/crucifix, followed by a total of nine beads, and ending with a St. medallion.
The beads are either separated into three groups of three beads, or all nine beads are in a single group. The method used when reciting the prayers is still the same regardless of the configuration. The 3×3 configuration just makes it easier for someone to keep track of where they are up to in the prayer cycle.
If the chaplet is in the form of a loop instead of a straight string, the St. medallion will form the rosary center. In either case these St. medallions depict a specific Saint or a season such as Eastertide or Passiontide.
How to Pray a Saint's Prayer
The prayers that we will be providing in this article, all use the same beginning and middle. The only distinguishing portion of the prayer is at the end, where you would recite a particular prayer that is dedicated to that specific Saint.
Step 1) The Beginning
Clasping the cross in one hand, make the sign of the cross and recite the Apostle's Creed.
I believe in God the Father Almighty,
Creator of Heaven and earth,
And in Jesus Christ, His only Son, our Lord,
Who was conceived by the Holy Spirit,
born of the Virgin Mary,
suffered under Pontius Pilate,
was crucified, died, and was buried.
He descended into Hell;
the third day He arose again from the dead;
He ascended into Heaven
and is seated at the right hand of God
the Father Almighty,
from thence He shall come to judge
the living and the dead.
I believe in the Holy Spirit,
the Holy Catholic Church,
the Communion of Saints,
the forgiveness of sins,
the resurrection of the body,
and life everlasting.
Amen.
Step 2) The Middle
For the middle of the prayer cycle, there are three prayers that are recited three times each (3×3). On each bead one prayer is said before touching the next bead and reciting the next prayer. Repeat the following prayers in this order three times:
Step 3) The Intercessory Prayer
At the end of the prayer cycle is where we would recite a Saint's prayer while clasping the saint medallion. As each of the saints hold patronage over different facets of life. It is advised to contemplate the service of which the saint is patron of. An example would be St. Michael the Archangel, the patron saint of police officers, paramedics, firefighters and the military. To whom we would pray to, for the protection of our service men and women.
List Of Patron Saint Prayers
1) St. Agnes – Patron saint of young girls, chastity, and rape survivors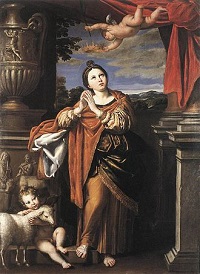 O singular example of virtue, glorious Saint Agnes, by the living faith which animated thee from thy tenderest years, and rendered thee so pleasing to God that thou didst merit the martyr's crown: obtain for us the grace to keep our holy faith inviolate within us, and to profess ourselves Christians sincerely in word and work; may our open confession of Jesus before men cause Him to bear a favorable witness to us before His eternal Father.
Amen.
2) St. Barbara – Patron saint of artillery, engineers, and miners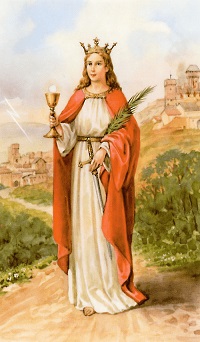 Saint Barbara, your courage is much stronger than the forces of hurricanes and the power of lightening. Be always by our side so that we, like you, may face all storms, wars, trials and tribulations with the same fortitude with which you faced yours. O Beautiful Maiden once imprisoned in a high tower, protect us from the lightning and fire that rages in the sky and the discord of war. Keep us alert and protect us from the dangers that surround us. Holy Mary Mother of Jesus intercessor for us all; we pray to assure receiving of the Sacraments of Penance and Holy Eucharist at the hour of our death. Through Jesus Christ Our Lord,
Amen.
3) St. Benedict – Patron saint of kidney disease and poisoning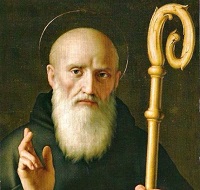 Glorious St. Benedict, sublime model of virtue, pure vessel of God's grace! Behold me humbly kneeling at your feet. I implore you in your loving kindness to pray for me before the throne of God. To you I have recourse in the dangers that daily surround me. Shield me against my selfishness and my indifference to God and to my neighbor. Inspire me to imitate you in all things. May your blessing be with me always, so that I may see and serve Christ in others and work for His kingdom.

Graciously obtain for me, from God, those favors and graces which I need so much in the trials, miseries, and afflictions of life. Your heart was always full of love, compassion, and mercy toward those who were afflicted or troubled in any way. You never dismissed without consolation and assistance anyone who had recourse to you.

I therefore invoke your powerful intercession, confident in the hope that you will hear my prayers and obtain for me the special grace and favor I earnestly implore (mention your favor here).

Help me, great St. Benedict, to live and die as a faithful child of God, to run in the sweetness of His loving will, and to attain the eternal happiness of heaven.
Amen.
4) St. Bernard of Clairvaux – Patron saint of chandlers (candle-makers) and beekeepers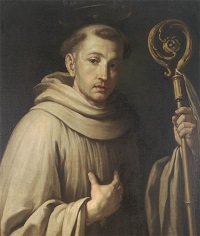 O God, who made of the Abbot Saint Bernard a man consumed with zeal for your house and a light shining and burning in your Church, grant, through his intercession, that we may be on fire with the same spirit and walk always as children of light. Through our Lord Jesus Christ, your Son, who lives and reigns with you in the unity of the Holy Spirit, one God, for ever and ever.
Amen.
5) St. Catherine of Siena – Patron saint of Europe, and fire prevention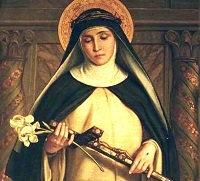 Heavenly Father, your glory is in your saints. We praise your glory in the life of the admirable St. Catherine of Siena, virgin and doctor of the Church.

Her whole life was a noble sacrifice inspired by an ardent love of Jesus, your unblemished Lamb. In troubled times she strenuously upheld the rights of His beloved spouse, The Church.

Father, honor her merits and hear her prayers for each of us. Help us to pass unscathed through the corruption of this world, and to remain unshakably faithful to the church in word, deed, and example.

Help us always to see in the Vicar of Christ an anchor in the storms of life, and a beacon of light to the harbor of your Love, in this dark night of your times and men's souls. Grant also to each of us our special petition (mention your request here).

We ask this through Jesus, your Son, in the bond of the Holy Spirit. St. Catherine of Siena, Pray for us.
Amen.
6) St. Cecilia – Patron saint of musicians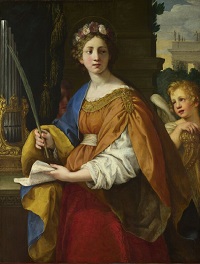 Saint Cecilia, heroic martyr who stayed faithful to Jesus, your divine bridegroom, give us faith to rise above our persecutors and to see in them the image of our Lord. We know that you were a musician and we are told that you heard angels sing. Inspire musicians to gladden the hearts of people by filling the air with God's gift of music and reminding them of the Divine Musician Who created all beauty.

O Eternal God, Who did give us, in the person of Saint Cecilia, a powerful protector, grant that after having faithfully passed our days, like herself, in innocence and holiness, we may one day attain the land of beatitude, where in concert with her, we may praise Thee and bless Thee forevermore in eternity.
Amen.
7) St. Elizabeth of Hungary – Patron saint of Catholic charities, and the Secular Franciscan Order
Dearest Saint Elizabeth, who was so beloved by God, vouchsafe to be the heavenly friend of our souls, and help them to become ever more and more acceptable to Jesus.

Cast down upon us from the height of heaven one of those tender looks which, when you were upon earth, healed the most distressing infirmities. In this our age, so depraved and corrupt, and at the same time so cold and indifferent to the things of God, we have recourse to you with confidence, in order that we may receive from our Lord light for the understanding and strength for the will, and thence obtain peace of soul.
Amen.
8) St. Elizabeth of Hungary Prayer for Widows
Dear Saint Elizabeth, you were always poor in spirit, most generous toward the poor, faithful to your husband, and fully consecrated to your Divine Bridegroom. Grant your help to widows and keep them faithful to their heavenly Lord. Teach them how to cope with their loss and to make use of their time in the service of God.
Amen.
9) St. Francis – Patron saint of ecologists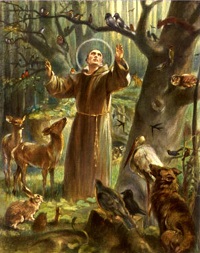 Lord, make me an instrument of Thy peace;
Where there is hatred, let me sow love;
Where there is injury, pardon;
Where there is error, the truth;
Where there is doubt, the faith;
Where there is despair, hope;
Where there is darkness, light;
And where there is sadness, joy.
O Divine Master, Grant that I may not so much seek
To be consoled, as to console;
To be understood, as to understand;
To be loved as to love.
For it is in giving that we receive;
It is in pardoning that we are pardoned;
And it is in dying that we are born to eternal life.
Amen.
10) St. George – Patron saint of boy scouts and soldiers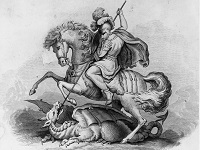 Faithful servant of God and invincible martyr, Saint George! Favored by God with the gift of faith, and inflamed with an ardent love of Christ, you fought valiantly against the dragon of pride, falsehood, and deceit. Neither pain nor torture, sword nor death could part you from the love of Christ.

I fervently implore you, for the sake of this love, to help me by your intercession to overcome the temptations that surround me, and to bear bravely the trials that oppress me, so that I may patiently carry the cross which is placed upon me; and let neither distress nor difficulties separate me from the love of Our Lord Jesus Christ.

Valiant champion of the Faith, assist me in the combat against evil, that I may win the crown promised to them that persevere unto the end.
Amen.
11) St. Gerard Majella – Patron saint of childbirth and pregnancy
Dear Saint Gerard we rejoice in thy happiness and glory; we bless the Lord Who endowed thee with the choicest gifts of His Grace; we congratulate thee for corresponding so faithfully with them.

Obtain for us, we pray thee, some part of thy angelic purity, thy burning love for Jesus in the Tabernacle, thy tender devotion to Mary Immaculate. In thy brotherly love which made thee the support of the poor, the comforter of the afflicted and the apostle of the most forsaken souls, grant me the favors for which I now pray (mention your request here).

O most Powerful Patron, who hast always helped those who prayed to thee intercede for me before the Throne of God. O Good Saint, to thee I confide my fervent prayers; graciously accept them and, before the end of these days of prayer, let me experience in some way the effects of thy powerful intercession.
Amen.
12) St. Hubert – Patron saint of hunters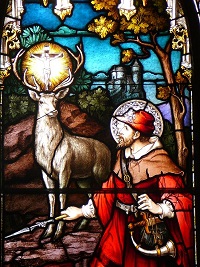 Great St. Hubert, you were passionate about hunting, but when touched by Divine Grace, you put down your bow and took up the collar of Priesthood. Known for your miracles and the conversion of hundreds, you convinced others to worship and glorify Our Lord.

Moved by your example, I implore your help. I ask for the Grace to follow in your footsteps and become a passionate disciple of Christ.
Amen.
13) St. Ignatius the Anima Christi Prayer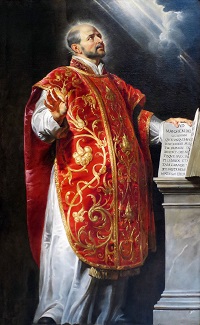 Soul of Christ, sanctify me.
Body of Christ, save me.
Blood of Christ, inebriate me.
Water from the side of Christ, wash me.
Passion of Christ, strengthen me.
Good Jesus, hear me.
Within the wounds, shelter me.
From turning away, keep me.
From the evil one, protect me.
At the hour of my death, call me.
Into your presence lead me to praise you with all your saints,
Forever and ever.
Amen.
14) St. Joan of Arc – Patron saint of military members
St. Joan, your courage and your faith in God accomplished great things. I ask your aid in fighting the good fight. Let my purpose be clear, my motives right. Let me not waiver in the face of difficulties. With your support I am unafraid and willing to do my utmost. This I ask in Jesus' name.
Amen.

In the face of your enemies, in the face of harassment, ridicule and doubt, you held firm in your faith. Even in your abandonment, alone and without friends, you held firm in your faith. Even as you faced your own mortality, you held firm in your faith. I pray that I may be as bold in my beliefs as you, Saint Joan.

I ask that you ride alongside me in my own battles. Help me be mindful that what is worthwhile can be won when I persist. Help me hold firm in my faith. Help me believe in my ability to act well and wisely.
Amen.
15) St. Jude – Patron saint of hope and impossible causes
Oh glorious apostle St. Jude, faithful servant and friend of Jesus, the name of the traitor who delivered thy beloved Master into the hands of His enemies has caused thee to be forgotten by many, but the Church honors and invokes thee universally as the patron of hopeless cases–of things despaired of.

Pray for me who am so miserable; make use, I implore thee, of that particular privilege accorded thee of bringing visible and speedy help where help is almost despaired of.

Come to my assistance in this great need, that I may receive the consolations and succor of heaven in all my necessities, tribulations and sufferings, particularly (mention your request here), and that I may bless God with thee and all the elect throughout eternity.

I promise thee, O blessed St. Jude, to be ever mindful of this great favor, and I will never cease to honor thee as my special and powerful patron, and to do all in my power to encourage devotion to thee.
Amen.
16) St. Martha – Patron saint of housewives and servants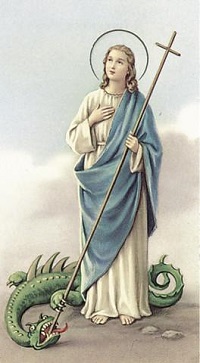 O blessed St. Martha, your faith led Jesus to proclaim, "I am the resurrection and the life"; and faith let you see beyond his humanity when you cried out, "Lord I believe that you are the Messiah, the Son of God."

With firm hope you said, I know that God will give you whatever you ask of him, and Jesus called your brother Lazarus back from the dead. With pure love for Jesus you welcomed him into your home. Friend and servant of our Savior, I too am "troubled about many things."

(Pause for silent prayer.)

Pray for me that I may grow in faith, hope and love, and that Jesus, who sat at your table, will hear me and grant me a place at the banquet of eternal life.
Amen.
17) St. Martin of Tours – Patron saint of horses, soldiers, and South Africa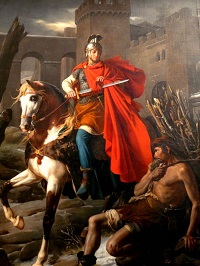 Blessed Saint Martin of Tours, You were born under pagan ways but since your childhood you were chosen to be a Prince of the Church and, as Bishop of Tours, many souls were redeemed and liberated from the satanic forces through your prayers, austerities and blessings.

Oh Saint Martin, who cut your own cloak to clothe Our Lord disguised as a beggar, We humbly ask for your intercession before Our Lord Jesus Christ and help us to be worthy of the grace and mercy of the Holy Ghost that lead us from darkness to light into the eternal kingdom, forever and ever.
Amen.
18) St. Mary Magdalene – Patron saint of contemplative life, penitent sinners, and sexual temptation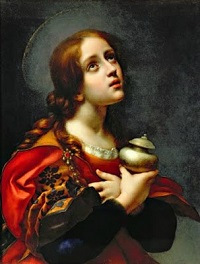 Oh glorious St. Magdalene, model of penitents, obtain for me the grace of perseverance in the practices of self-denial.

Pray to God for me that I may appear before Jesus, our Lord and Master, at the moment of my death, with my lamp filled with the oil of faith and hope, and burning with the pure flame of charity. And thus merit to be received with thee into His eternal kingdom.
Amen.
19) St. Monica – Patron saint of alcoholics, conversion, married women, and mothers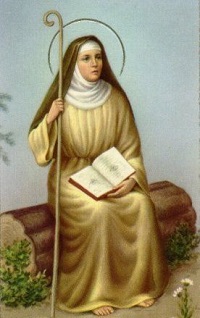 Dear St. Monica, troubled wife and mother, many sorrows pierced your heart during your lifetime. Yet, you never despaired or lost faith.

With confidence, persistence, and profound faith, you prayed daily for the conversion of your beloved husband, Patricius, and your beloved son, Augustine; your prayers were answered.

Grant me that same fortitude, patience, and trust in the Lord. Intercede for me, dear St. Monica, that God may favorably hear my plea for (mention your intentions here), and grant me the grace to accept His Will in all things, through Jesus Christ, our Lord, in the unity of the Holy Spirit, one God, forever and ever.
Amen.
20) Our Lady of Guadalupe – Patron saint of the Americas and Mexico
O Virgin of Guadalupe, Mother of the Americas, grant to our homes the grace of loving and respecting life in its beginnings, with the same love with which you conceived in your womb the life of the Son of God. Blessed Virgin Mary, Mother of Fair Love, protect our families so that they may always be united and bless the upbringing of our children.

Our hope, look upon us with pity, teach is to go continually to Jesus, and if we fall help us to rise again and return to Him through the confession of our faults and our sins in the Sacrament of penance, which gives peace to the soul.

We beg you to grant us a great love of all the holy Sacraments, which are, as it were, the signs that your Son left us on earth. Thus, Most Holy Mother, with the peace of God in our consciences, with our hearts free from evil and hatred, we will be able to bring to all others true joy and peace, which come to us from your Son, our Lord Jesus Christ, who with the Father and the Holy Spirit, lives and reigns for ever and ever.
Amen.
21) St. Peregrine – Patron saint of AIDS patients and cancer patients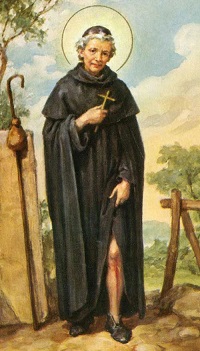 St. Peregrine, whom Holy Mother Church has declared Patron of those suffering from Cancer, I confidently turn to you for help in my present sickness. I beg your kind intercession. Ask God to relieve me of this sickness, if it be his Holy Will. Plead with the Blessed Virgin Mary, the Mother of Sorrows, whom you loved so tenderly and in union with whom you have suffered the pains of Cancer, that she may help me with her powerful prayers and loving consolation.

But if it should be God's Holy Will that I bear this sickness, obtain for me courage and strength to accept these trails from the loving hand of God with patience and resignation, because he knows what is best for the salvation of my soul. St. Peregrine, be my friend and patron. Help me to imitate you in accepting suffering, and to unite myself with Jesus Crucified and the Mother of Sorrows, as you did. I offer my pains to God with all the love of my heart, for his glory and the salvation of souls, especially my own.
Amen.
22) St. Pio – Patron saint of civil defense
Dear God, You generously blessed Your servant, St. Pio of Pietrelcina, with the gifts of the Spirit. You marked his body with the five wounds of Christ Crucified, as a powerful witness to the saving Passion and Death of Your Son. Endowed with the gift of discernment, St. Pio labored endlessly in the confessional for the salvation of souls. With reverence and intense devotion in the celebration of Mass, he invited countless men and women to a greater union with Jesus Christ in the Sacrament of the Holy Eucharist.

Through the intercession of St. Pio of Pietrelcina, I confidently beseech You to grant me the grace of (here state your petition).
Amen.

Glory be to the Father and to the Son and to the Holy Spirit, as it was in the beginning, is now and ever shall be, world without end.
Amen.
(repeat the Glory Be three times)
23) St. Rita – Patron saint of difficult marriages, infertility and parenthood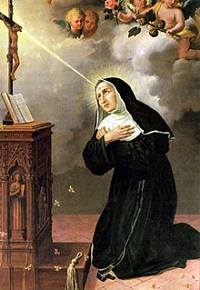 O Holy Patroness of those in need, St. Rita, whose pleadings before thy Divine Lord are almost irresistible, who for thy lavishness in granting favors hast been called the Advocate of the Hopeless and even of the Impossible.

St. Rita, so humble, so pure, so mortified, so patient and of such compassionate love for the Crucified Jesus that thou could obtain from Him whatsoever thou ask, on account of which all confidently have recourse to thee, expecting, if not always relief, at least comfort; be propitious to our petition, showing thy power with God on behalf of thy supplicant.

Be lavish to us, as thou hast been in so many wonderful cases, for the greater glory of God, for the spreading of thine own devotion, and for the consolation of those who trust in thee. We promise, if our petition is granted, to glorify, thee by making known thy favor, to bless and sing thy praises forever.

Relying then upon thy merits and power before the Sacred Heart of Jesus, we pray: (mention your request). Obtain for us our request. Pray for us, 0 holy St. Rita, that we may be made worthy of the promises of Christ.
Amen.
24) St. Rose of Lima – Patron saint of Peru and of all South America
Admirable Saint Rose, you were truly a sweet flower blooming on a rugged soil; you were indeed a rose among thorns, bearing with meekness and patience the stings of envious tongues, and preserving perfect purity and modesty amid the alluring blandishments of a deceitful world.

To the sufferings inflicted on you by others you added the voluntary tortures of fasting and watching, of the discipline, of the crown of thorns and of the hair shirt, to subdue the flesh and to make yourself like to your heavenly Spouse. By the merits which you have thus gained with your divine Bridegroom, obtain for me the grace to bear my afflictions with patience, to remain pure and modest, to be meek and humble, to be faithful to the inspirations of the Holy Spirit, and so to mortify my passions that I may be ever more pleasing and acceptable in the sight of my dear Lord and Savior, Jesus Christ.
Amen.
25) St. Teresa of Avila – Patron saint of headaches and migraines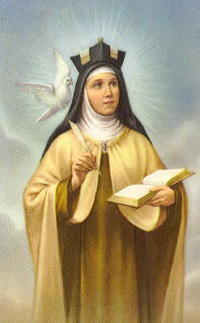 O Saint Teresa, seraphic Virgin, beloved spouse of thy crucified Lord, thou who on earth didst burn with a love so intense toward thy God and my God, and now dost glow with a brighter and purer flame in paradise: obtain for me also, I beseech thee, a spark of that same holy fire which shall cause me to forget the world, all things created, and even myself; for thou didst ever avidly desire to see Him loved by all men.

Grant that my every thought and desire and affection may be continually directed to doing the will of God, the supreme Good, whether I am in joy or in pain, for He is worthy to be loved and obeyed forever. Obtain for me this grace, thou who art so powerful with God; may I be all on fire, like thee, with the holy love of God.
Amen.